Here is a post I wrote last year with one of my favorte menus- enjoy!
Hi there fellow THMers! I have started blogging again, but because I'm pregnant I still have some good weeks and some not so great weeks so please bear with me as I will be posting on and off.
I hope everyone is getting excited for Thanksgiving and enjoying the yummy foods that accompany cold weather. With this in mind, I planned my menu with pumpkin desserts and soups included. Hopefully you can get some good ideas to add to your menu this week! As a reminder, if you click on anything highlighted in blue it will take you to the link of the recipe
Dinners:
Monday- Balsamic Chicken ( I just sauteed chicken tenderloins in balsamic vinegar and olive oil, and then added no sugar marinera sauce), dreamfields pasta, salad with Olive Garden Dressing- S
Tuesday- Fajitas- S
Wednesday- Mock Mack and Cheese Cassarolle- S
Thursday- Baked Chicken, Sweet Potatoes- E
Friday- Speedy Thin Crust Pizza- S (old THM book p. 278)
Saturday- Mock Olive Garden's Zuppa Toscana Soup- S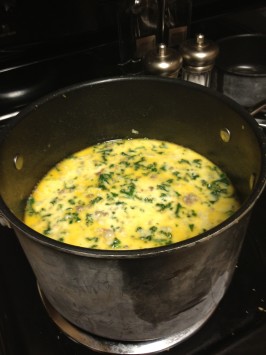 Sunday- Baked Oatmeal- E (we like having breakfast for dinner on Sundays)
Dessert Ideas:
Cookie Dough Shake- FP (meaning you can have this after any meal;)
Low Carb Pumpkin Cheesecake- S (one of my favorites!)
Mom's yummy pumpkin cookies-S ( I have to have these on hand at all times now
Snack Ideas:
CNC- dark chocolate, nuts, cheese- S
Joseph Lavash Chips, Cottage Cheese and Salsa- FP
Greek Yogurt, cocoa powder, peanut flour, sweetener to taste- E
Popcorn(once a week), Apples dipped in stevia sweetened greek yogurt and cinnamon- E
Pumpkin Pie in a Mug- E (I substituted the egg for an egg white and it turned out great!)
Breakfast Ideas:
Oatmeal, diced apple, vanilla protein powder, cinnamon, splash of almond milk, Ezekiel toast w/ polaner's jam- E
Breakfast Burritos- low carb tortilla, scrambled eggs, any veggies, salsa, cheese- S
Other breakfast Ideas: I found this great link with lots of breakfast ideas using no special ingredients
Lunch Ideas:
Leftovers
Lite Progresso Soups, Ezekiel toast w/ some laughing cow cheese- E
Ham Wraps w/ Lettuce, Tomatoes, and Laughing Cow Cheese- E
Southern Dill Pickle Chicken Salad- S (I ate this in a low carb tortilla- yum!
Yummy Warm Drinks:
Hot Cocoa w/ Peppermint Extract- heat 1 c. almond milk in microwave, stir in 1-2 T. cocoa powder, liquid stevia to taste, 1/4 tsp. peppermint extract, and whipped cream on top- I have this almost every night!